NEW EQUIPMENT AT OR COMPLEX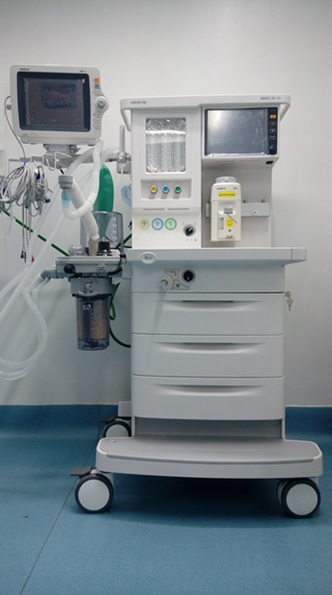 MINDRAY ANESTHESIA MACHINE WITH CARDIAC MONITOR
Features New Touch-screen Control Featuring a new 10.4'' touch-screen with quick access parameter controls and flat menu design. The new WATO EX-35 UI enables the user to make adjustments to vent mode and monitor settings easier than ever before at this product level. The new touch responsive Smart Alarm system provides real-time detailed information that quickly and clearly alerts the clinician to adverse situations highlighting the need for early interaction and resolution. Enhanced Performance Employing the latest technologies the new WATO EX-35 supports an extensive range of features and functionality, ensuring all anesthetic procedures are delivered safely, efficiently and effectively. Enhanced features include, but are not limited to: • Integrated Plug-and-play AG Module (auto ID of 5 agent and N2O) • Integrated multi-mode ventilator offering controlled and support modes of ventilation • The new and unique Mindray Ventilator Drive Gas Auto Switch function which guarantees the patient is ventilated without interruption at all times… Better Usability The new EX-35 is designed with the user in mind. It has been developed to make your life easier. A feature rich, ergonomically designed anaesthesia system that can be positioned with ease and used for prolonged periods without experiencing unnecessary stress or fatigue.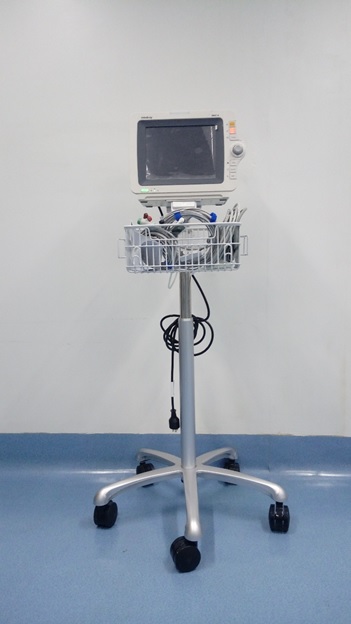 MINDRAY CARDIAC MONITOR WITH TRAY
Features Mindray's iMEC has been designed based on a solid foundation of experience and knowledge in patient monitoring. It integrates Mindray's proven technology, rich know-how in ergonomic design and the latest ASIC technology, thereby delivering impressive reliability and performance. Its portable structure, a touch screen with intuitive user interface, flexible networking capabilities and accurate monitoring functions make iMEC the optimal choice for sub-acute care. At the same time, iMEC is also a patient monitor series with "green" credentials. It reduces your hospital's ecological footprint and contributes to a sustainable environment. Based on its optimized hardware design, iMEC achieves a 50% lower power Consumption compared to conventional patient monitors. This allows for an improved battery life and a fan-less design, providing for a cleaner and quieter care environment. New iMEC15 patient monitor has a large 15 inch colour screen that offers intuitive and instant access to all patient information at the point of care. It is configurable with integrated 3/5/12, lead ECG, Resp, SpO2, TEMP, NIBP, 2ch IBP, EtCO2 and C.O. measurements, and is also ready to work with Mindray's Multi-Gas measurement module. It is suitable for a wide range of clinical applications for more comprehensive care.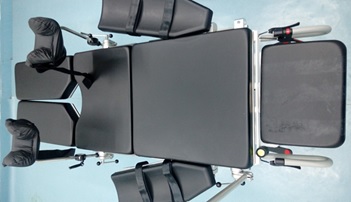 RAPIDO DELIVERY ROOM BED
Rapido is an all-in-one hydraulic day surgery table for preinduction, transport, operation and recovery. Its variety of features makes it the ideal solution for busy day surgery needs. Rapido enables expedient operating room transfers in the day surgery ward which leads to more efficient use of operating room time crucial in efficient outpatient surgery. Features: Dedicated Day-Surgery table Cost effective: 1 product, several applications: bed, trolley, operating table, examination table Easy to service Easy to clean and to operate Exceptionally low minimum height Base frame of epoxy coated steel Casings of chock-resistant ABS-plastics Swiveling antistatic twin-castors Central locking pedal on each castor (locks all castors simultaneously) Robust and stable column system Table top of 4-5 sections (Head section included) Top plates are X-ray translucent high pressure laminate X-ray cassette rails along the full length Soft antistatic, 70 mm separate mattress set fixed to the table with Velcro fitting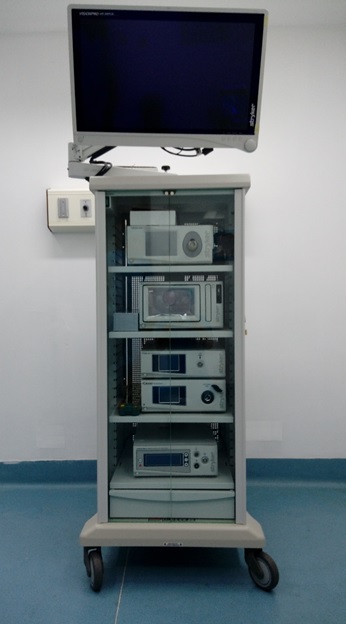 LAPAROSCOPIC TOWER
PneumoSure 45L Insufflator Stryker's 45L PneumoSure insufflator provides exceptional performance with enhanced safety and reliability. This new insufflator is designed to handle the needs of today's dynamic surgical environment and includes 2 additional modes for Bariatrics and Vessel Harvesting. The 45L PneumoSure insufflator offers real time pressure sensing for increased accuracy during a procedure. Its ability to maintain pneumoperitoneum under the most extreme conditions, coupled with a fully integrated color touch screen, allow for increased ease of use with the Stryker 45L PneumoSure insufflator. SDC3 Stryker's line of digital capture devices can accommodate the most demanding surgical needs. Our systems are easy to use and seamlessly obtain digital still images and moving video from the Stryker camera, a remote control or directly from the console. 1488 HD The 1488 HD Camera System utilizes advanced CMOS technology and premium optics to continue the legacy of best-in-class video systems that Stryker has delivered to its customers for over 25 years. The 1488 system provides a clear bright image designed to enhance patient outcomes. Cross-specialty standardization is enabled through nine dedicated surgical specialty settings. L9000 LED Light Source Now an eco-friendly and cost savings OR device, the L9000 LED Light Source reduces hazardous environmental waste by preventing frequent changes of light bulbs. As an added benefit, the optional Safelight technology ensures that the light source goes into standby mode when the Safelight cable detaches from the scope. This feature will reduce the risk of injury to the patient and OR staff. This LED light source is a great solution when used with the 1288 HD 3-Chip Camera as the light output settings are completely controllable from the camera head. Overall lower operating cost and increased safety make this device a sure winner in the OR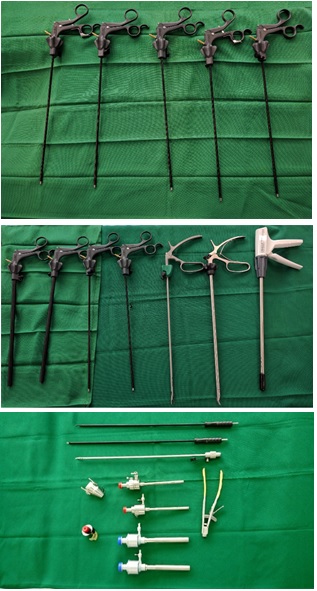 LAPAROSCOPIC INSTRUMENT
5mm & 10mm Laparoscopic Instruments Stryker laparoscopic instruments are made of high quality stainless steel and durable materials. Each instrument is superbly crafted using the latest in computer-controlled machine technology. Offered in 3 mm, 5 mm and 10 mm sizes, this line offers a variety of handle and inserts styles for grasping, dissecting, suturing and cutting capabilities. The latest additions to this laparoscopic instrumentation line are the rotating and non-rotating slide lock graspers which offer a precise and ergonomic ratcheting mechanism