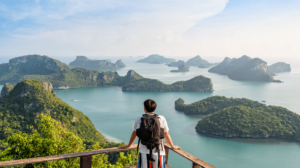 Great news! You can still travel and take vacations even while you're on dialysis treatment. You just need to keep a few things in mind. 
According to Dr. Genaro Angcao, a nephrologist at Westlake Medical Center, one should not stop seeing the world just because they are undergoing dialysis, especially if traveling is their passion. 
"We advise our dialysis patients to keep on doing the activities they loved to do before they had to undergo treatment," Dr. Angcao says. Although he admits, that traveling, in particular, requires more than just the usual planning. 
"Before setting out, dialysis patients need to first know where to get treatment in their destination. Best if they do this with the help of their dialysis unit and nephrologist who will also identify the hospital or facilities to go to in case of emergency," he points out. 
"Dialysis treatment is more expensive abroad, but regardless of the place, one can still have a fun and hassle-free vacation if it is planned properly." 
Apart from kidney diseases, dialysis is also used for various conditions including sepsis, liver failure, and aggressive infections like COVID-19. Kidney disease is a "silent killer" because it does not manifest symptoms until kidney function falls below 10% of normal. He adds that if the kidney disease is already chronic, it is likely to become irreversible and difficult to treat.  
Dr. Angcao encourages dialysis patients, not just those taking a vacation, to increase their protein intake to around 1.2 grams per kilogram a day, as well as to avoid processed foods due to their high phosphorus content. Patients with high levels of phosphorus in their system are at higher risk of developing diseases linked to prolonged dialysis like heart disease, stroke, and bone disease.   
For a complete diet guide, he suggests that dialysis patients consult a nutritionist or their dialysis unit. 
If you're manifesting symptoms of kidney disease or want to know more about it or dialysis, you can visit Westlake Medical Center. To get expert medical advice regularly, follow Westlake Medical Center at https://www.facebook.com/WestlakeMedCenterPH/ and https://www.tiktok.com/@wmctiktok.